Listes des autres pages théologiens et philosophes
Archimandrite Cyprian Kern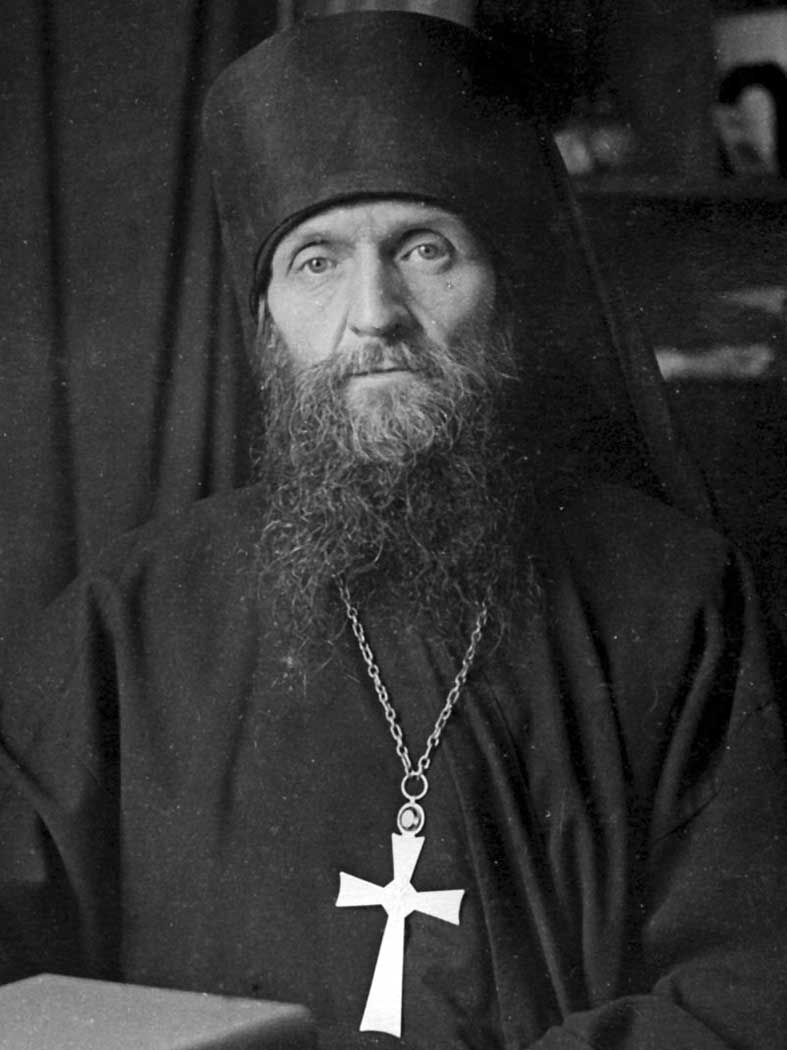 Archimandrite Cyprien Kern
Auteur inconnu (DR)
Archimandrite Cyprian (Kern) (1899-1960) - professor of Saint Sergius Orthodox Theological Institute, professor and exceptional father confessor, is one of the most important representatives of the "Paris School" of Russian theology. Among his disciples, one can count theologians such as Fr. Alexandre Schmemann, Fr. John Meyendorff, Fr. Boris Bobrinskoy. One of his spiritual children was the writer Boris Zaitsev.
Konstantin Kern (the future Father Cyprian) was born in Toula, but raised in Saint Petersburg. His father, of German origin, scientist and civil servant, was the rector of the Forestier Institute. It is likely that Father Cyprian got his teaching talent from his father. Father Cyprian's mother came from a family of merchants in Toula. Thanks to a French nanny, her mother tongue was French.
Konstantin graduated from Alexandrovsky High School and in 1917 entered the Faculty of Law of Moscow University. He took part in the civil war as part of the Volunteer Army. Evacuated from Crimea, he lived in exile in Yugoslavia from 1921-1936.
A graduate of the Faculty of Law and Theology in Belgrade, it was there that Father Cyprian was tonsured and ordained by Metropolitan Anthony (Khrapovitsky), who was his spiritual father.
In Yugoslavia, Father Cyprian taught many disciplines at the seminary in Bitola, Macedonia. In 1928-1930, he was appointed head of the Russian Ecclesial Mission in Jerusalem by the Synod of the Russian Church Abroad. On his return from Palestine, he entered the jurisdiction of the Serbian Church, under the omophore of Saint Nicolas (Velimirovich). He then acquired Yugoslavian citizenship.
At the end of 1936, he moved to Paris, accepting the invitation to participate in the teaching staff of the Institut de Théologie Saint-Serge, of which he would remain a professor until the end of his life, simultaneously fulfilling the function of inspector. During the 24 years of his Parisian life, Father Cyprian served in the Archdiocese, first of all, at the Church of the Intercession in Paris (1936-1939), at the "Orthodox Action" of Saint Mother Mary (Skobtsov), then for twenty years, from 1940 until his death, he was rector of the small wooden church Saints-Constantine-et-Hélène in Clamart, south-west of Paris. The second priest under Father Cyprian was Father Alexander Schmemann before he left for America.
It was in Clamart that Father Cyprien was buried in the communal cemetery with the Troubetzkoy, Bouteneff, Lopoukhine and Ossorguine families, founders of the Saints-Constantin-et-Hélène church.
Among the scientific and literary works of Father Cyprien, let us quote the monographs:
"Father Anthony (Kapoustine)"
"The Eucharist"
"The Anthropology of Saint Gregory Palamas"
The following works were written as an extension of the lectures given at the Bitola Seminary and at the Institut Saint-Serge:
"The pastoral ministry in the Orthodox Church"
"The Golden Age of Patristic Literature"
"Patrology"
"Liturgica: Hymnography and Eortology"
"Prayer lilies : articles on liturgical theology"
"Angels, monasticism, humanity"
"Journal. Memories"