Listes des autres pages pères sprirituels et moniales
Archpriest Nicolas Obolensky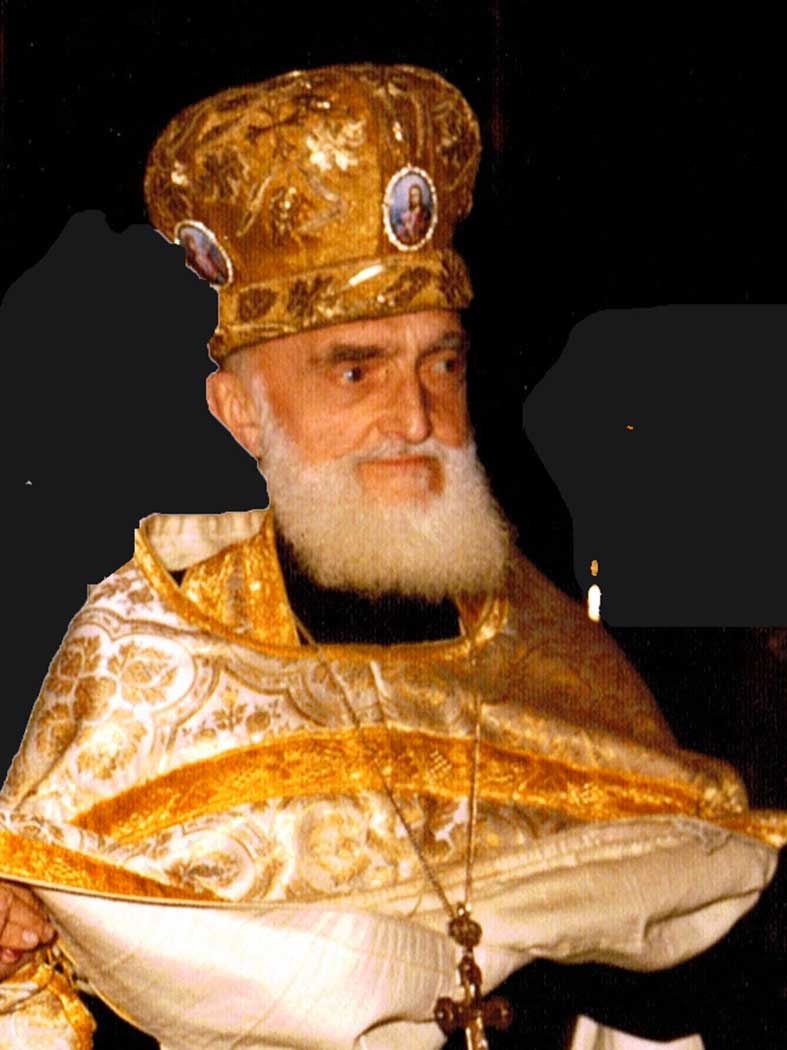 Archpriest Nicolas Obolensky
© famille Runge
Born in 1900, from a princely family, he was the godson of Empress Marie Fedorovna, wife of Emperor Alexander III. He studied in Russia at the Page Corps and then graduated in economics from the University of Geneva. After having emigrated to France, he married Véra Makaroff (Vicky) in Paris. During World War II, the Obolenskys joined a resistance network. Nicolas Obolensky was deported to Buchenwald in 1944, and freed by American troops in 1945. His wife Vicky was executed on August 4, 1944 in the Ploetzensee camp in Germany. Nicolas Obolensky did not learn this news until after his return to France. In 1946, Vicky, Princess Obolensky, second lieutenant of the French Forces of the Interior (FFI) was posthumously appointed to the Rank of Knight of the Legion of Honour with the award of the Croix de Guerre. A commemorative plaque in her memory is in the Russian cemetery of Sainte-Geneviève-des-Bois. Nicolas Obolensky was decorated in 1947 with the Order of the Legion of Honor and the Medal of the Resistance. He worked for a while as an archivist-documentalist at Paris Match and later retired.
Being a deeply religious person, he responded to God's call and decided to become a priest.Ordained deacon by Bishop Method (Kuhlman), he was assigned to the Church of the Resurrection in Asnières, then in 1963 he was ordained priest by Archbishop George (Tarassoff) and appointed second priest at the Saint Alexandre Nevsky Cathedral. At the same time, he also celebrated services in the churches of Troyes and Montargis. He was then rector of the churches of Bordeaux and Biarritz.
In the cathedral, he taught catechesis at the parish school and participated in the school celebrations. He made a pilgrimage to the Holy Land in 1953 before his priesthood, then four times as a priest< He was then elected President of the Brotherhood of Pilgrims in the Holy Land. Upon his death in 1979, the Brotherhood journal wrote: "with his fiery soul, he gave his help to all those who came to him with his innate energy and talents".
In everyday life, he had never refused to attend wedding, baptism or funeral receptions: "A priest must always be present in moments of family joy or consolation". In the courtyard of the church in Paris, dressed in his black cassock, he greeted his friends with a big smile, his arms wide open, shouting from afar in his plump voice: "I am very happy to see you" and he would hug you.
In the neighborhood, while going shopping with his limping gait, he greeted all his acquaintances and was very popular. Of course, he participated in ecumenical meetings. He wrote testimonies in the press, such as the one in memory of Pierre Spassky (Pensée Russe, 1968) with whom he had collaborated for many years at the cathedral.
Archpriest Nicolas Obolensky is buried in the Russian cemetery of Sainte-Geneviève-des-Bois.